Thank you for viewing my sales post! I prefer Paypal, but will accept money orders or well concealed cash at your risk. I have 100% positive feedback on eBay that you can view here so you can buy from me with confidence. I am willing to bargain, so make me an offer!

These items come from my clean, non-smoking home. I do have a dog and a cat but I don't let them near my clothes. Everything listed is in excellent used condition unless otherwise stated meaning that although it shows expected wash wear, there are no stains, holes or other noted imperfections.


Shipping for each item is $4 and I will gladly combine shipping for a lower cost if you buy multiple items. Shipping to Canada will be $6. I will ship worldwide for an extra cost.




1. Mossimo pink/purple smocked top 28/30 $8

This top is a stiff cotton but definitely has some stretch to it. Shows normal wash wear/pilling.










2. Venezia navy blue smocked top 26/28 $10

100% polyester, but it's soft like a tshirt.
In excellent used condition.








3. Mossimo short sleeve purple sweater 28/30 $10

In great used condition. There is a little bit of pilling, but can easily be removed. This is sort of a grayish purple. In the photo it doesn't like as purple as it is in real life. Great for fall.





4. Just My Size navy/white smocked tank top 3X $8

The tag says 22/24, 3X but it fit me fine at a size 28/30. This brand seems to run big. The smocking at the bust is really flattering. If you are big busted, you might need to layer this to avoid showing your bra.








5. Lane Bryant cream lace cami 22/24 $8

Adjustable straps






6. Old Navy XO tshirt 4X $5

Shows some pilling and fading, but still super cute.





7. Old Navy black & grey tank 3X $8



8. Torrid ivory pleated sweater size 1 $15

This runs very big. I normally wear a 4 or 5 in Torrid's sizing and this fit me just fine. This sweater has a trapeze shape.








9. Avenue purple corsage top 26/28 $12

New without tags. I bought it and washed it but never wore it. This is still for sale on their site, but this color is sold out. http://www.avenue.com/Plus-Size-Tops-and-Tees-Clearance.aspx?DeptId=20779





10. Avenue aqua top 30/32 $10

Has little silver stitches near the neckline.









11. Fashion Bug teal ruffle top 30/32 $10

New without tags. I bought it and washed it but never wore it.







12. Fashion Bug brown 2 piece look shirt 30/32 $12

New with tags. The faux buttons are crystals.






13. Just My Size pink top 3X $5

Fits like a 26/28. Shows some pilling.






14. Roaman's jean shorts size 30W $5

100% cotton with elastic in the waistband. 2 front pockets and button/zip closure.
10 inch inseam







15. Avenue black knit crop pants 26/28 $8

Button/zip closure and front slash pockets. There is some pilling.








16. Fashion Bug brown crop pants 26/28 $10

Never worn. Poly/spandex blend. These are heavier and you could definitely get with them on cooler fall days. They are elastic waist.






17. Avenue black dress pants 28 $12

Poly/rayon/spandex blend. These are average length. Button/zip closure and 2 front pockets. 2 faux pockets in the back.







18. Fashion Bug black asymmetrical skirt 22 $5

Has some pilling/wash wear.






19. Avenue fuschia shoulder bag $10

There are 2 outside pockets and one inside zipper pocket. There is a shoulder strap and a shorter strap that you can either carry the bag with or tuck inside. I didn't really carry this more than once or twice.
Measures: 18 inches wide, 10 inches tall, 8 inches deep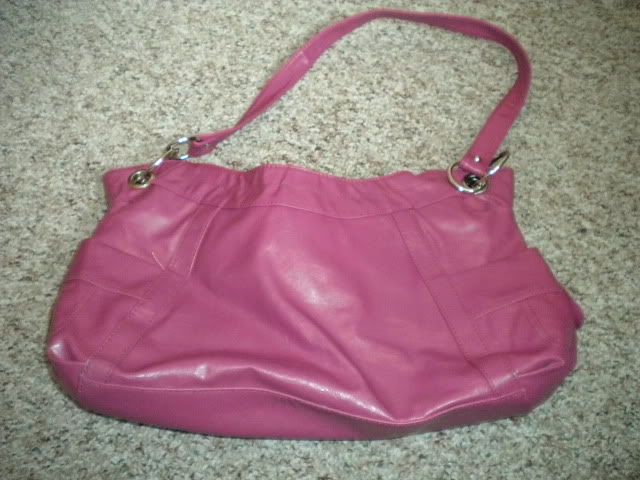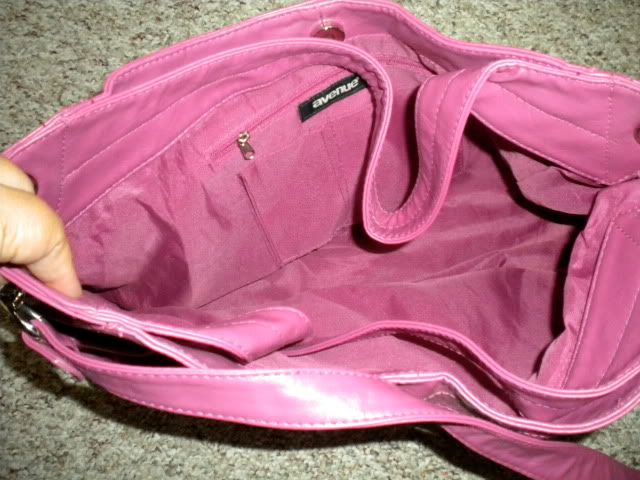 20. Torrid Black floral purse $5

Purchased from Torrid. This has glittery straps and a glittery bow with a kisslock closure.One inside zipper pocket.Only carried a few times.
Measures: 14 inches wide (at widest), 11 inches tall, 3 inches deep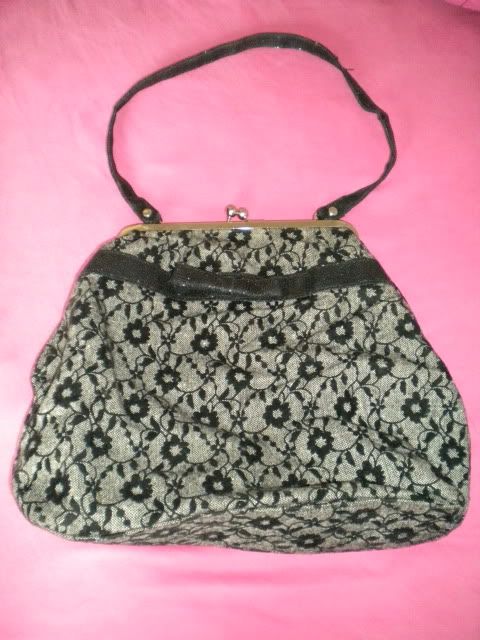 x-posted to other communities